Craft skills – patchwork, applique , quilting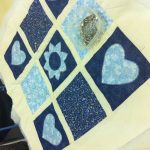 APPLIQUE FOR CRAFTS –
new dates coming soon….please enquire.
Applique means 'To Apply' and is a lovley craft to use on quilts, cushions, wall hangings and clothing. Shapes are cut out and applied to a background using bondaweb ( a double sided adhesive fabric) they are then stitched around to add strength and decoration. This 2.5 hour workshop will show you how to prpeare your fabric and sew an interesting design of your choice.
£35 FABRIC INCLUDED
Book with a £10 deposit
new dates coming soon …….please enquire.
£40 includes use of all fabric and equipment. 
Book with a £10 deposit