About Christine
I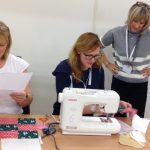 have had a passion for textiles and fashion since the age of 11 when I used to make clothes for my Sindy dolls! Remember those?! I used to spend hours making them the best outfits to wear! So probably had the best dressed sindy doll in town! I enjoyed my needlework lessons at school so much that I decided to take it at A level and then go onto teacher training college to study fashion and textiles from which I gained a B.Ed(Hons ) degree and have since worked in secondary schools in various areas of the country – 15 years at a local one in Harrogate. I have taught mainly GCSE and A level textiles.
I also have a city and guilds qualification in patchwork and embroidery which ignited a passion for the creative textiles and I love using techniques with water-soluble fabric and Angelina fibres. I also love silk and fabric painting and free machine embroidery.
Appliqué, patchwork and quilting are also amongst my passions and have learnt many new ways to use fabric and components to produce pictures, cushions and wall hangings.
I have enjoyed being able to teach textiles and dressmaking in schools for many years but feel there is now a revival of interest from lots of people who perhaps didn't do so well at school or who would like to spend more time creating with fabric. Since the BBC sewing Bee programme I have been asked many times if there was anywhere in Harrogate that provides lessons. Now there is!
The rewards from learning how to sew are numerous – increased confidence and self esteem, pride in creating something original, improvement of patience and hand eye co-ordination, increased understanding of the working properties of different fabrics and how to care for them as well as an opportunity to meet new people and share ideas. It is amazing what can be done when people meet together to create!