Sew Young – sewing for young people age 10+
Most children love creating new things! My experience of working in schools has shown me that sewing is not just for girls! Both boys and girls can come and learn or improve the skill of using a sewing machine and take something creative home with them. Some children may want to sew but haven't had the time in school to hone their skills. They can come and practice in a small group setting with good instruction. Or parents may just want to keep their children busy during the long school holidays!
Classes will have a maximum of 5 children.
 FASHION FOCUS FOR AGES 13+ 
Wednesdays 4.15-6.15 pm.

£20 per session. £108 for 6 sessions booked together.
Workshops for ages 11+. Fashion focus will teach young people to design and make their own clothing and accessories in a fun, relaxed environment.  They will learn how to use a sewing machine,  do fashion illustration, look at how to adapt designs and make new clothes from old .
Children can choose from a variety of patterns to make skirts, simple tops, bags, hats, pyjamas etc.
Your own fabric and pattern must be purchased for these sessions.  More instructions will be given on booking the workshops
SUMMER HOLIDAY SEWING CLASSES:
SEWING CLASSES FOR AGES 10+
These classes are ideal for children who want to learn how to sew.  They will learn lots of basic skills and gain the confidence to make lots of creative things for themselves or other people
SEWING MACHINE BEGINNERS for ages 10-13 – INTRODUCTORY COURSE – £20 

TUESDAY 24TH JULY 2-3.30 PM
A 1.5  hour class to learn the basics of using a sewing machine – how to thread up, sewing a straight line , stitching curves and corners and setting patterns on the machine finishing with a sewing machine driving test to receive a certificate of Merit!  Ideal for the young sewing enthusiast!
refreshments included.
FANCY FASHION BAGS –

Thursday 16th, 23rd and 30th August 10 am-12.30. £25.  All materials included
These calico bags are decorated with a designer panel using applique and machine embroidery.  This class is suitable for the beginner or those with a little sewing experience.  They will take home a finished bag that can be reused time and time again!
FASHION FOCUS FOR BEGINNERS.
Starts 31st July 2-4 pm.  £20 per session or £75 for   all 4
A  4 week course for the budding fashion designer.  Children will learn how to use a commercial pattern to make their own clothes.  A choice will be given from a simple skirt, shorts, simple jacket or top.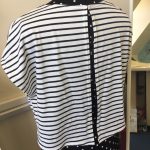 Book with a £10 deposit

PYJAMA SHORTS –

£25. £32 for parent and child together
Thursday 13th August 10 am- 1 pm. 

 
Bring along a metre of fabric and make some pyjama shorts.  A great starter class to learn how to use and understand a pattern.
Book with a £10 deposit.
SUMMER KIMONO JACKET- 

Monday 20th and 27th August 10 am – 12 pm

A 2 week course. £35 for both sessions. £45 for parent and child together. Book with a £10 deposit
Children will learn simple dressmaking techniques to make this lovely summer throw on jacket with sleeves and a fringe edging.  They will bring their own fabric and fringing. A great 2 week project to get them into making their own clothes!