Level 2: suitable for sewers with some sewing experience.
OVERCOMING THE OVER LOCKER £25

Thursday 24th January 7-9 pm
This workshop will help you to overcome all the fears you have and get you using your over locker confidently!  Bring your own over locker machine and learn how to thread, set the tension, understand the dials, sew seams, hems and much more….. 

Book with a £5 deposit
Mini Patchwork Quilt course – A 4 week course
starts Tuesday 29th January 7-9 pm £85
Learn how to make beautiful 9 patch blocks into a mini quilt with a sashed edging.  It looks much more complicated than it is!  You will need to bring your own fabric, wadding and backing.  Advice will be given on booking the course.
Book with a £20 deposit.  
ROMAN BLIND WORKSHOP. 2 week class £45. 
Tuesday March 19th and 26th 7-9pm
This workshop will teach you how to measure your window, how to line the roman blind, attach the tape, cord and velcro and take home a small completed blind.
Please note: Fabric can be provided in this workshop but you may bring your own if you prefer.
Everything you need to complete the blind is included in the price such as  tape,cord and velcro.  The instructions can be taken home to allow you to make your own roman blind for any window.
Deposit £10 on booking.
3 week cushion making workshops –
Thursday 11th, 18th and 25th April 7-9 pm.
These can be booked as a single class for £25 or all 3 classes for £65.

Book with a £5 deposit on each class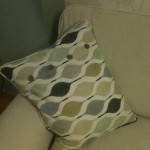 ZIP CUSHION – 11th April 7-9 pm
This is a simple introduction to cushion making.  You will learn how to measure and insert an invisible zip fastening into a simple cushion cover. You will need to bring 1/2 metre of fabric, a zip and a cushion pad (no bigger than 18 x 18 inches)                   

BUTTONHOLE CUSHION -18th April 7-9 pm
 In this workshop your fears of buttonholes will be completely disbanded! You will learn how to measure the fabric for your cushion then make one step automatic button holes on a cushion. They will look so professional you will want to put buttonholes in everything after this workshop!
PIPED CUSHION 25th April 7-9 pm
Learn how to make an envelope fastening and insert piping. An extra £5 is charged for this workshop due to the longer session needed. This workshop concentrates on the insertion of the piping/edging. The cushion is made with an envelope fastening which is quick and easy to complete.  You will need to bring 1/2 metre of your chosen fabric, piping, bias tape and cushion pad (no bigger than 18 x 18 inches please!) There may also be an opportunity to make your own bias tape from the matching fabric..  £30  Refreshments included.

SEW FOR ME  –  TUESDAYS AND FRIDAYS 10-1 pm ( every week).
PAY AS YOU GO CLASSES TO LEARN/IMPROVE ANY SEWING SKILL FROM FASHION TO FURNISHINGS OR JUST PURE FUN! Guidance will be given in choosing suitable fabric prior to booking.
The work space has a 12 foot waist height cutting table for large projects and 6 sewing machines including an overlocker.
Bring a pattern and fabric and learn all the processes from pattern laying to finishing off for a professional look.

Come to do just a part of or finish off a project. e.g  learn how to insert a zip in a dress, come to do buttonholes on an automatic machine, attach an edge around a quilt etc….

Tea and biscuits included in the price
£10 PER HOUR OR £25 FOR 3 HOURS – COME FOR JUST AN HOUR  up to 3 HOURS
A 10% discount is applied if 6 weeks are booked together
DRESSMAKING COURSE.   (6 WEEKS). New dates coming soon….
 £25 per session.  £120 for all 6 sessions.
GROUPS ARE LIMITED TO 4 TO ENSURE QUALITY TEACHING AND GUIDANCE
This course is suitable for complete beginners or the next level of sewing.  You will bring
 a pattern of your choice to learn all the processes involved to completion of a garment.  You may want to choose a pattern with a collar, pockets, buttonholes etc to take your sewing to the next level. Guidance can be given on this if needed.
Please book your place with a £20 deposit.
Refreshments included
Please enquire about new dates for……
Curtain making workshops
Come and learn how to measure and make the perfect curtains.  You will spend the morning making a sample curtain . FABRIC CAN  BE PROVIDED.    You will learn how to cut the fabric to size using a window measurement, how to cut and attach a lining , turn up the hem and how to attach the heading tape.
Sew a skirt in a day

£60.  BRING YOUR OWN PATTERN AND FABRIC.
This workshop will teach you all the basics of making a simple skirt.  You will be given a choice of  patterns to buy and you will choose your own fabric for either a summer or winter skirt.  You will learn how to read the instructions, fit the skirt, finish the seams, insert a zip, attach a waist edge/band and hem the skirt all in a day!
Lunch can be brought to this workshop although refreshments and light bites will be provided.
Max numbers -4
---