Level 1: suitable for beginners
A new sewing machine for Christmas ? Come and learn how use it!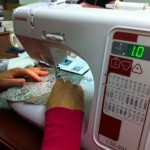 SEWING MACHINE BEGINNERS – INTRODUCTORY COURSE. £20
Thursday 10th January 2019 7-9 pm

Full
Thursday February 28th 7-9 pm
Children are welcome at these workshops.
A 2 hour class to learn the basics of using a sewing machine – how to thread up, sewing a straight line , stitching curves and corners, sewing a seam, hems and setting patterns on the machine and many useful little tips for making your sewing life easier!

Book with a £5 deposit
refreshments included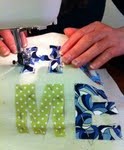 APPLIQUE FOR BEGINNERS
Saturday January 19th 10 am-1
Full
A great workshop to learn how to apply fabric shapes to a background, how to set the machine for accurate sewing and lots of little tips to make your applique look professionally done.
£25. ALL FABRIC INCLUDED. The price also includes refreshments.

Book with a £10 deposit

SEW FOR ME – TUESDAYS AND FRIDAYS 10-1 pm ( every week).
The work space has a 12 foot waist height cutting table for large projects and 6 sewing machines including an overlocker.
PAY AS YOU GO CLASSES TO LEARN/IMPROVE ANY SEWING SKILL FROM FASHION TO FURNISHINGS OR JUST PURE FUN! Guidance will be given in choosing suitable fabric prior to booking.
SPACES ARE LIMITED TO 5 TO ENSURE QUALITY TEACHING AND GUIDANCE
Bring a pattern and fabric and learn all the processes from pattern laying to finishing off for a professional look.

Come to do just a part of or finish off a project. e.g learn how to insert a zip in a dress, come to do buttonholes on an automatic machine, attach an edge around a quilt etc….

Tea and biscuits included in the price
£10 PER HOUR OR £25 FOR 3 HOURS – COME FOR JUST AN HOUR up to 3 HOURS
A 10% discount is applied if 6 weeks are booked together.