AUTUMN WORKSHOPS AT THE SEWING SANCTUARY…
The Sewing Sanctuary workshops are held in a  purpose built sewing studio. It is ON THE 2nd FLOOR in the Beulah62 Creative Arts Centre, 11-13 Beulah Street, Harrogate. HG1 1QQ ( Above Costa Coffee).  It can be reached through the painted door next to Costa.



Want to learn how to sew? Or improve your skills? OR just give your self some 'ME' time? Then come along to fun, friendly and non intimidating workshops for dressmaking, patchwork, quilting and creative embroidery.
Lots of Christmas craft workshops in the Sew to improve workshops section – 
Christmas tree bunting, Christmas wreaths, Christmas stockings, patchwork cushions and bags – take a look!
INTRODUCTION TO THE SEWING MACHINE

Saturday 14th January 2017 10-12 pm
Saturday 11th February 2017  10-12pm
A 2  hour class to learn the basics of using a sewing machine – how to thread up, sewing a straight line , stitching curves and corners, sewing a seam, hems and setting patterns on the machine and many useful little tips for making your sewing life easier!
£20  including refreshments.



CRAFTERNOONS –
 EVERY MONDAY  2-4 pm. £10 per session. £50 FOR 6. 
This fun afternoon is open to anybody of all ages to come along and meet other crafty folk and share ideas, skills and techniques as well as meet new people who love crafting like you! Bring along a project to start, continue or complete at your own pace. Machines and equipment are available to use.
Each month simple ideas for craft projects from the 'SEW' magazine will be available to choose from
DECEMBER – Christmas crafts
A small EXTRA charge  may be charged for materials at these workshops unless you bring your own.
Refreshment are provided.  
Book a place to avoid disappointment as numbers are limited.
FASHION FOCUS FOR AGES 11+ and SEWING SKILLS FOR AGE 8+
FASHION FOCUS  

Every fortnight.

Wednesdays 4.15-6.15 pm age 11+ and 4-6 pm for the age 8+.  £20 per session.  £102 for 6 sessions.
 Fashion focus will teach young people to design and make their own clothing and accessories in a fun, relaxed environment.
Sewing skills for  age 8+ will concentrate on teaching children basic sewing skills to make simple fun items to take home.
AGE 8+ WEDNESDAYS 4.15-6.15 pm
An after school class for ages 8+ to learn new sewing skills and improve their creativity and manipulative abilities.  A different topic is taught each week 
Please contact Christine on 07785532353 for more INFORMATION.
Remember you can also book Hen parties,baby shower parties OR children's parties at The Sewing Sanctuary.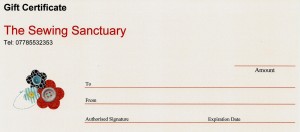 Gift tokens also available